Overview
The fellowship's mission is to develop obstetrician gynecologist leaders in complex abortion and contraception through training in clinical care, research, and education. Working with respected and innovative leaders in the field, fellows learn about clinical and epidemiologic research, develop clinical and teaching skills, experience reproductive health issues locally and in low-resource settings, and establish connections to a rapidly expanding network of complex family planning experts. Fellows graduate with advanced training consistent with their career goals and complete a research project focused on clinical or psychosocial aspects of abortion or contraception.
The fellowship is based primarily at the University of Washington Medical Center (UWMC), and includes rotations at Cedar River Clinics and Planned Parenthood. UWMC is a 450-bed hospital providing tertiary care for the Pacific Northwest region. It is a major clinical resource for high-risk obstetrics, neonatology, gynecologic oncology, urogynecology, assisted reproductive endocrinology, infectious diseases, genetics, and breast cancer.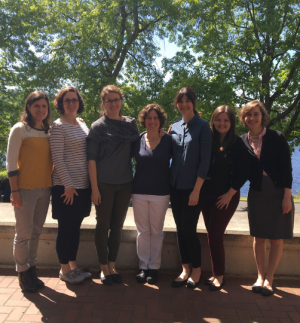 The Division of Complex Family Planning in the Department of Obstetrics and Gynecology at UW includes five complex family planning subspecialist faculty and proudly collaborates with others who work in the field of family planning across the School of Medicine and university. Each faculty member is active in clinical and/or laboratory research. While the surgical and clinical experience is exceptional, this program also provides an excellent opportunity for epidemiologic or health sciences research.
Faculty members engage in research funded by government, private, institutional, and industry sponsors, offering the opportunity for participation in a wide variety of topics within family planning. For fellows with interests in any of these areas, we have identified mentors across disciplines who have agreed to participate in the research training for fellows.
Central to our program's vision is a broad commitment by our department to an inclusive environment and to reducing inequities in patient care through education, research, leadership and excellence in clinical care. We acknowledge that the field of family planning is complicit in the advancement of racism. We strongly believe that diversity enriches training and scientific discovery, and promotes the best healthcare. We are committed to cultivating an equitable and inclusive environment for patients, trainees, staff, and faculty, and are focused on actively working toward a supportive and accountable climate for all.
Fellowship Directors