Overview
As a large-scale healthcare provider in the five-state region of Washington, Wyoming, Alaska, Montana, and Idaho (WWAMI), we serve a substantial population of both urban and rural patients from a variety of socioeconomic, racial and ethnic backgrounds. 
Values in Action
We maintain a climate of respect for patients and their families, our students, trainees, faculty and staff.
We pursue the recruitment, retention and advancement of faculty and trainees from underrepresented groups in medicine.

We provide personalized medicine where our patient-centered approach delivers equitable care.

We support inclusive clinical and academic activities to promote equity among our faculty, staff and patients.

We have developed curricula that fosters inclusive values among medical students, residents and fellows.

In our interaction with our patients, we have implemented practices that are guided by DEI (Diversity, Equity and Inclusion) principles such as the use of gender neutral language. These practices are person-centric and avoid the use of stereotypes.

We strive for Diversity in:

Race
Culture
Ethnicity

National Origin /  Citizenship

Language

Religion

Sexual Orientation
Gender Identity
A

ge

Physical and Mental Ability / Disability
Socioeconomic Status / Background

Educational Level
Department Initiatives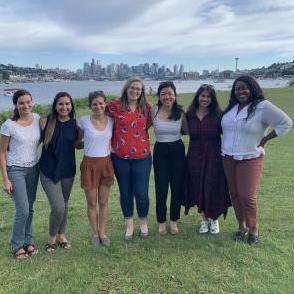 In 2019, our department established two new initiatives recognizing the importance of diversity for maintaining excellence in our teaching, patient care and research programs:
Diversity Sub-Internship
This is an experience with a $1,500 stipend designed to give two fourth-year students from historically underrepresented backgrounds the opportunity to experience the outstanding clinical training in our department prior to choosing where to go for their residency. For more information, visit the UW OB/GYN Diversity Sub-Internship page.
Council on the Promotion of Diversity, Equity and Inclusion
The department's Diversity Council is part of the broader UW Medicine Center for Equity, Diversity and Inclusion. The Council is composed of faculty, staff, and trainees dedicated to department-wide initiatives honoring, promoting and recognizing diversity in its many forms.
We have 5 committees working in the follow areas to accomplish a wide variety of DEI initiatives within our department and community: Training and Education, Culture and Policy, Hiring and Retention, Communications, Community Outreach

DEI Leadership
Dalika Ung - Program Administrative Coordinator
Erin McCoy, MPH - Program Manager
Executive Sponsor
Network of Underrepresented Residents and Fellows
Established in 2010, the University of Washington Network of Underrepresented Residents and Fellows (UWNURF) is a resident and fellow organization at the University of Washington that promotes cultural diversity in medicine through community education, mentorship, professional networking, cultural competency education, and recruitment of underrepresented medical students, residents and fellows.  
OB/GYN Grand Rounds with a Diversity, Equity and Inclusion Focus
Here is a list of archived Grand Rounds focusing on Diversity, Equity and Inclusion. Click on the title links to view the presentations.
Washington State Health Care Authority, Office of Tribal Affairs - Historical Trauma and Indian Health Care
Presented by: Jessie M. Dean, JD, MS, MHPA
Date: 6/30/2021
*please contact Jeff Alfred-Sanford (jalfreds@uw.edu) for more information on the presentation*
Participation of Racial and Ethnic Minorities in Clinical Trials: Past, Present & Future
Presented by: Soledad Jorge, MD
Date: 4/14/2021
Incorporating and Tracking Health Care Inequities in Quality Improvements
Presented By: Allison S. Bryant Mantha, MD, MPH
Date: 10/28/2020
Gynecologic Concerns of Gender Diverse Patients
Presented By: Corrine Heinen, MD, Alson Burke, MD, Kate Debiec, MD, Sean Johnson, MPH, MSW, LSWAIC
Training Packet PDF
Date: 5/13/2020
Dying Prematurely: Discussing Death and Dying with African Americans
Presented By: Brownsyne M. Tucker Edmonds, MD, MPH, MS
Date: 4/29/2020
Building Equitable Centers of Cancer Care Excellence: A Single Institution Experience
Presented By: Adbulrahman K. Sinno, MD
Date: 3/25/20
Reproductive Rights & Wrongs: Agency, Autonomy and a Reproductive Justice Approach to Care
Presented By: Jamila Perritt, MD, MPH, FACOG
Date: 06/26/2019
IUDs and Implants: A Person-Centered and Justice-Informed Perspective
Presented By: Christine Dehlendorf, MD, MAS
Date: 05/29/2019
A Race-Conscious Approach to Disparities in Endometrial Cancer for the 21st Century
Presented By: Kemi Doll, MD, MCSR
Date: 05/08/2019
The Psychological Science of Microaggressions: What They Are and Why They Matter (partial video)
Presented By: Jonathan Kanter, Ph.D.
Date: 01/23/2019
Infertility Management in Low Resource Settings
Presented By: Christopher Herndon, MD
Date: 10/24/2018
Implicit Bias and Social Categorization in Medicine
Presented By: Naomi Shike, MD, MSc.
Date: 10/10/2018
Slavery, the Surgeon, and the Statues: The History and Legacy of Dr. J. Marion Sims
Presented By: Vanessa Northington Gamble, MD
Date: 12/13/2017
Treating Racism in Medical Education
Presented By: Andrea V. Jackson, MD MAS
Date: 01/25/2017
Patient Centered Care in Family Planning: Achieving Public Health Goals while Safeguarding Reproductive Autonomy
Presented By: Lisa Callegari, MD, MPH
Date: 12/21/2016