Overview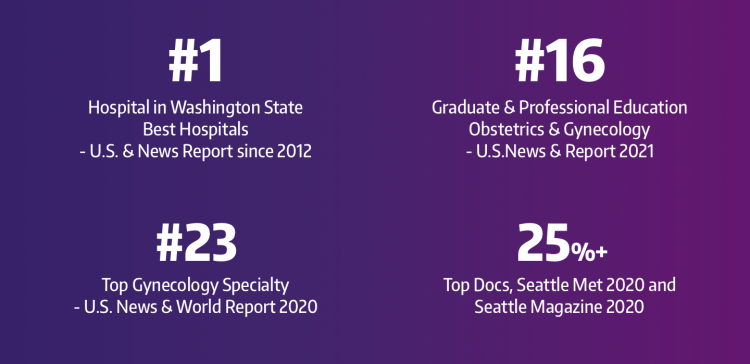 Established in 1948, we are a clinical department of the University of Washington School of Medicine, which is a part of UW Medicine.
Our 100 clinical and research faculty, 40 medical trainees, and 60 staff invite you to discover what makes us the No. 1 Gynecology specialty program in Washington State and the five-state WWAMI region of Washington, Wyoming, Alaska, Montana, and Idaho. We are ranked among the top 25 Gynecology specialties in the country, according to the 2020 U.S. News & World Report. 
As the premier teaching hospital in the WWAMI region, we prioritize educational opportunities using cutting-edge technology, research, and evidence.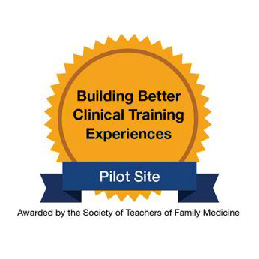 Pilot Site for Building Better Clinical Experiences
In 2019, we became a designated Pilot Site for Building Better Clinical Experiences, an honor awarded by the Society of Teachers in Family Medicine.
E
xceptional care
Our multidisciplinary and patient-centered approach allows us to provide exceptional care for both routine and highly complex medical problems. Our full spectrum care includes adolescent gynecology, family planning, wellness and preventive services through late adulthood, care for normal and high-risk pregnancies, treatment for complicated medical conditions such as breast and gynecologic cancers and pelvic health disorders such as incontinence.   
Our department has 11 separate clinical sections and a research division, all led by nationally regarded clinicians and scientists. 
Sites of Practice
Our 18 sites of clinical practice include Harborview Medical Center, UW Medical Center-Montlake Campus, UW Medical Center-Northwest Campus, Valley Medical Center, VA Puget Sound, Seattle Children's Hospital, Seattle Cancer Care Alliance, and UW Neighborhood Clinics.
We have telemedicine programs and outreach clinics in Arlington, Olympia, Yakima, and Richland (TRIOS). We also offer the convenient TeleOB Program at select UW Neighborhood Clinics.
Values in action 
Treat people with respect and compassion
Embrace diversity, equity and inclusion
Encourage collaboration and teamwork
Promote innovation through national leadership
Provide excellence in clinical care, research and education
Educate and mentor the next generation of healthcare providers and scientists
Lead in creative interdisciplinary clinical care and research
Provide advocacy and education for the community we serve
Promote equitable access to healthcare
Commitment to diversity, equity and inclusion
We are committed to department-wide education and practice of diversity, equity and inclusion through our Anti-Racism & Equity programming and DEI Council working on initiatives affecting recruitment, retention, communications and culture. 
History
Want to learn more about the history of our department? Read all about it here.