Overview
We offer comprehensive care for patients with pelvic floor disorders, including pelvic organ prolapse, urinary incontinence, accidental bowel leakage, recurrent urinary tract infections, mesh complications and urogenital and rectovaginal fistulas.
We offer pelvic reconstructive surgery for those with congenital or acquired conditions, including post-radiation vaginal stenosis and congenital Mullerian anomalies. We offer consultative services for patients seeking gender affirming surgeries.
We practice collaboratively with Female Urology, General Urology, Colorectal Surgery, Gastroenterology, Radiology and Physical Therapy to provide the highest quality of care for our patients.
As experts in Female Pelvic Medicine and Reconstructive Surgery, we are proud of the care we provide. We work closely with every patient to provide the best evidence-based surgical and non-surgical treatment options. We are high-volume and multi-modal surgeons and provide a wide range of surgical options care for patients (native-tissue versus mesh-based surgery, hysterectomy versus uterus-preserving surgery) that is tailored to the patient's goals. 
We are leaders in the medical and surgical treatment of women with pelvic floor disorders and excel in our roles as mentors and educators.
Our Team
Our faculty in the Division of Urogynecology are:
As part of the Pelvic Health Center, we are part of a team dedicated to providing the best pelvic care possible for our patients before, during and after their visit. 
Our Mission
To provide high-quality patient-centered care with excellent treatment outcomes

To train and educate the next generation of ob/gyn surgeons

To be national leaders in our field
What We Do
Treatment Options
Our treatment options for pelvic disorders range from behavioral changes, physical therapy, medications and surgery. We provide minimally-invasive surgical treatment options including vaginal surgery, laparoscopic and robotic-assisted laparoscopic surgery.
Our comprehensive program offers individualized care and support during evaluation and surgical and nonsurgical management. 
Pelvic Health Care
We offer complete pelvic health care, including:
Physical therapy:

Pessaries
Percutaneous tibial nerve stimulation
Peripheral nerve evaluation

Surgeries for prolapse:

Anterior repairs / cystocele repairs
Posterior repairs / rectocele repairs
Hysterectomy
Uterosacral ligament suspensions
Sacrospinous ligament suspensions

Minimally invasive sacrocolpopexy

Colpocleisis
Mesh and non-mesh prolapse surgeries
Uterine-preserving / hysteropexy surgeries

Surgeries and procedures for urinary incontinence

Midurethral slings with mesh
Burch urethropexies
Pubovaginal / fascial slings
Transurethral bulking injections
Bladder Botox injections
Sacral neuromodulation 

Surgeries and procedures for fecal incontinence

Anal sphincteroplasty
Sacral neuromodulation 

Surgeries for pelvic reconstruction

Simple partial vulvectomy / labiaplasty
Vaginal septum resection
Hymenectomy
Vaginal reconstructive surgery for stenosis due to post-radiation, lichen planus or lichen sclerosis
Gender affirming surgeries including hysterectomy, vaginectomy, vaginoplasty

Complications associated with mesh

Complete and partial mesh excision

Surgeries for urogenital and rectovaginal fistula

Vesicovaginal fistula repair
Rectovaginal fistula repair
Where We Are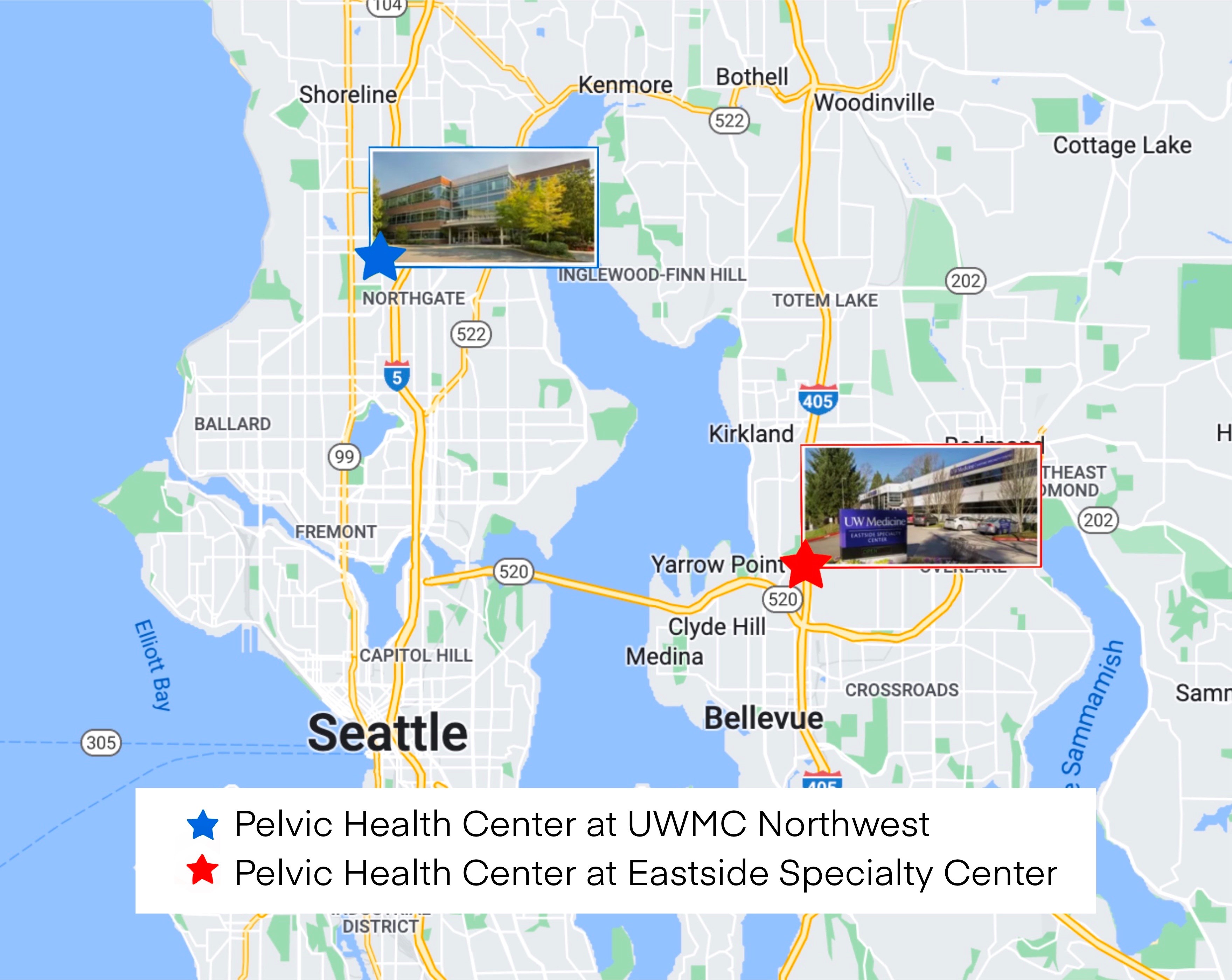 We see patients at the Pelvic Health Center clinic in the McMurray building on the UW Medical Center - Northwest campus and the Eastside Specialty Center in Bellevue. 
We perform surgery at the UW Medical Center - Northwest main operating room as well as at the UW Northwest Outpatient Surgery Center.
Contact us
For administrative assistance, our Division Coordinator can be reached at (206) 685-8155.
For any clinical related concerns, our Northwest team can be reached at (206) 668-4477.