Overview
The OBGYN Generalist Division at UW Medical Center, the OBGYN Generalist Division at Harborview Medical Center, and the OBGYN Generalist Division at VA Puget Sound provide primary and specialty Obstetrics and Gynecology care for women. 
Combined, we have 19 full-time and part-time faculty providing women's healthcare across 10 ambulatory, and four hospital sites.
Our faculty provide a large proportion of the clinical volume in the OB/GYN department. 
Our Mission
We promote excellence in OBGYN care through:
Providing compassionate and state-of-the-art comprehensive obstetric and gynecologic care.
Maximizing our patients' experience through exceptional professional conduct and continual improvement of our clinic and hospital processes.
Serving as the premier referral center for complicated gynecology in the greater Northwest region.
Advancing knowledge and expertise within our field in research and education.
Becoming national leaders in obstetrics and gynecologic education and furthering the education of our University of Washington residents and medical students.
What we do
Clinical Care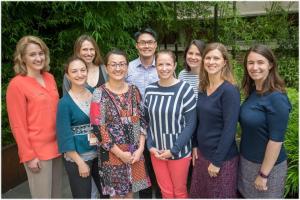 We care for patients at multiple clinical sites across the Seattle area, serving a diverse female population that ranges from pediatric/adolescent patients at Seattle Children's Hospital (SCH) and cancer patients at the Seattle Cancer Care Alliance (SCCA), to the female veterans referred to the Seattle and Tacoma Veteran's Administration (VA) sites. 
We manage a wide range of general to complex gynecologic conditions, and serve as consultants to our primary care, pediatric, and oncology colleagues at various clinical sites.
We emphasize wellness and prevention, and encourage patients to become a partner in their health care.
In September 2019, we introduced the first TeleOB program in the Seattle area, designed to combine the convenience of telemedicine with our high-quality prenatal care.
Sites of practice
UW Medical Center - Montlake
UW Medical Center - Northwest
Harborview Medical Center
VA Medical Centers (Puget Sound, American Lake)
UW Neighborhood Clinics (Factoria, Shoreline, Ravenna, South Lake Union)
Eastside Specialty Center
Hall Health
UW Roosevelt Women's Healthcare Clinic
Seattle Children's Hospital Clinics (Bellevue, Sandpoint, Seattle Children's Hospital)
Seattle Cancer Care Alliance (SCCA).
Specialty services and clinics
Each of our healthcare professionals has a special interest and expertise in OBGYN care. Specialty clinics allow us to concentrate our expertise and teaching efforts. 
Specialty services include:
Mammography and breast imaging
Sexual dysfunction
Disorders of sexual development
Dysplasia
Vulvovaginitis
Ultrasound
Mental health services
Radiology
Bone density scanning
Vaginitis
Endometriosis
Preventive Care
Research
As a primarily clinical division, we have focused our efforts on advancing knowledge and expertise in three main areas:
Global education leadership and curriculum development
Infectious disease and prematurity research 
Process improvement and clinical standardization in the transformation of care
Education
Our faculty are active educators and hold key leadership roles locally and nationally.
We teach
Medical students and residents (and operate OB/GYN resident Clinics)

OB/GYN
Family Medicine
Internal Medicine
Pediatrics

Fellows

Adolescent Medicine
Pediatric Surgery
Pediatric Urology
Settings
Labor and Delivery
Operating Room
Ambulatory settings
Our Team
Our faculty in the OBGYN Generalist Division UWMC are:
Montlake Campus: 
Northwest Campus: 
Click here for information about our great faculty and initiatives at the Women's Clinic at Harborview or the Puget Sound VA Health Care System.