Vision
Fast facts
35 research faculty, 12 fellows
10,000+ square feet of research laboratory space
Our faculty envision a world where optimal reproductive health is achieved - guided by principles of discovery, collaboration, significance and innovation. We seek to motivate a research environment dedicated to creativity and advancing collaborations within the university, nationwide,  and across the world.
Mission
Engage in scientific inquiries ranging from the cellular level to the level of health systems to promote excellence in reproductive healthcare.
Harness basic science, applied science, clinical, health services, and epidemiologic research to answer pressing questions about reproductive health. 
partnerships
In the Department of Obstetrics and Gynecology, we work closely with investigators at the Fred Hutchinson Cancer Research Center and Seattle Children's Hospital, as well as the Departments of Immunology, Genome Sciences, Pharmacology, Population Health, Public Health, Infectious Disease and Global Health.
Our faculty engage in multidisciplinary collaborations throughout the world  to address emerging reproductive threats like corona, HIV, HPV, cancer and lack of access to family planning; and throughout the rural west to solve long-standing barriers to pregnancy care access using telemedicine. 
Training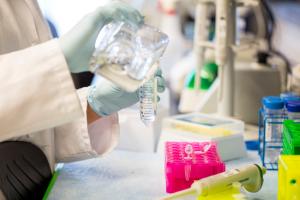 We offer numerous opportunities for residents and fellows to engage in research. In addition to our Global Health research, we are proud of our Women's Reproductive Health Research (WRHR) Career Development Program which has trained numerous young OB/GYNs to be successful clinician scientists. 
Research Division
In 2018, we established a Research division which facilitates high-quality research by providing technical and operational support to OB/GYN faculty and trainees. While faculty throughout the department engage in clinical research, the Research division is separate from the 11 clinical divisions of our department and has its own operating structure. The Department of Obstetrics and Gynecology is also home to the Center for Reproductive Sciences.
Research Division Leadership
Barbara Norquist, MD, Associate Chair of Research
Florian Hladik, MD, PhD, Director of Reproductive Sciences, Chief of the Division of Clinical Research
Research Training and Technical Support
Ronit Katz, PhD, Director of Biostatistics
Mindy Pike, PhD, Analyst
Erin Dwyer, MPH, Analyst
Catherine Albright, Director of Resident Research
Research Operations
Kelly Gilmore, MPH, Associate Director of Research Operations
Emiko Oshima, MPH, Research Program Manager
Nicole Wothe, Research Division Coordinator
Tyler Gaffney, Grants Manager
Sheri Yoo, Grants Analyst
Research inquiries can be sent to obgynresearch@uw.edu.
Research News